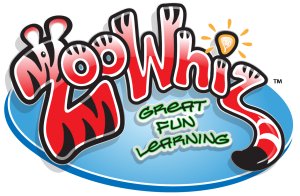 ZooWhiz is an online learning program that encourages kids to learn math, reading and word skills, punctuation and grammar in a fun way that allows them to earn "coins" that they can then use to build their own zoo.
From the website:
Highest quality educational activities that are just right for your child

The 17,000 educational activities in ZooWhiz were developed by a team of highly experienced educationalists and teachers to provide meaningful and effective learning
Each of the educational activities in ZooWhiz has been included to meet specific learning outcomes identified in the comprehensive, rigorous planning that preceded their creation
Because each and every activity in ZooWhiz was designed with a particular outcome in mind, there is absolutely no time wasted on superfluous content. The resulting educational content closely follows the key curricula from around the world and has been rigorously tested by millions of users!
ZooWhiz activities provide scaffolding for weaker students and enrichment activities that will engage and extend even the most inquiring minds
Learning sequences are designed directly into the sequential, finely-incremented educational content
The students click on the "Learn & Earn" building to get started and choose what subject they'd like to work on.
One thing that I really appreciate about this program is that the early levels are built with a beginning reader or a child who has not yet learned how to read in mind.  The instructions are given verbally, but there are plenty of chances to listen to them again if they were missed the first time.
The children are praised if they get the correct answer.  What I really like is that they are told if their answer is incorrect, but they are also given the opportunity to try again.  They are not penalized in any way for their incorrect answers.
Some other programs will tell you that the answer is incorrect and they immediately move on.  My son has found that to be very frustrating, particularly if he accidentally clicked on the wrong thing.
One thing that I did notice is that the narrator speaks with an accent, so some vowel sounds can be a little bit difficult to discern.  (Though I noticed that my son did a much better job of figuring them out than I did!)
Again, since there isn't a penalty for getting an incorrect answer, it wasn't a big deal to him to try again.
When you have accumulated a lot of coins, you can head on over to the BioDome where you can shop for animals for your zoo.
You can view all of the animals available, or you can view them based on their habitat.  You can even choose extinct or mythical creatures for your zoo!
We have had…..erm….discussions about whether or not the Sasquatch is real in the past.  When he saw it listed in the shop, he asked if they had it under "mythical" – I was SO glad that they did!  =)
They can view the animals that they have already purchased:
For each of the animals, the kids can view even more information on them including their diet, their habitat and whether or not they are endangered.
My son was excited to have chosen all of the available dogs for his Zoo – hehe.
You can also head to the Arcade with the coins that you have earned, and play a number of fun games.
The fun incentives for learning really help to keep my boy motivated.  His favorite part of the program is buying animals for his zoo.
If you are interested in trying out ZooWhiz for your family, you can set up a free keeper account at
With the free keeper account, you get:
Access to all of the educational activities
Some of the animals for your zoo
Some of the Arcade games
Basic reports telling you how you are going
Limited play out of school hours
For more info on the free keeper account, go here.
If you choose to upgrade to a Premium Zoologist account you get:
More cool animals for your zoo
Endangered animals for your zoo
More Arcade games
Detailed Dynamic Reports that show you how your work is going and where you need help
PICS (Premium Integrated Content Selector) to let you choose exactly the right educational activities for you
Unlimited play out of school hours
For more information on the Premium Zoologist upgrade, go here.
At the time of this posting, you can purchase a 1-year premium subscription for only $14.95, a  75% discount from the regular price of $59.95/year.

Disclaimer: I received a complimentary 1-year premium subscription in exchange for my honest review. All thoughts and opinions are my own. No monetary compensation was received.