KinderBach is an online learning program that gives children ages 3-7 an introduction to music with the focus being on the piano.  This is our second opportunity to use and review KinderBach.  If you read last year's KinderBach Review, you'll know that I took piano lessons for about 14 years when I was growing up.
I truly believe that everyone should learn to read sheet music – including (especially) my children.
Even though I know how to read sheet music, I don't feel that I'm in a position to teach my children how to read it.  I wouldn't know where to start.
From the Website:
The KinderBach curriculum is a proven teaching method which gives children a solid music foundation, aligned with the MENC National Standards for Pre-K, that can translate to any instrument. Basics are basics and KinderBach covers them using language children understand. Youngsters will learn music vocabulary, note reading, rhythm, physical technique, 'do, re mi' singing, listening skills and music composition plus the joy in making music.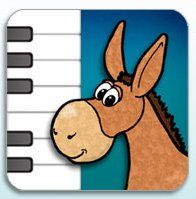 Miss Karri and her friends make learning about music fun and easy.  She employs a number of learning styles to engage the kids and keep them interested.
Here Miss Karri has them going down low with their bodies when the music note is a low note, and up high when the note is a high note.  (they were giggling while they were doing this, of course).
Many of the  lessons are accompanied by/reinforced with printable pages that the kids can follow along with.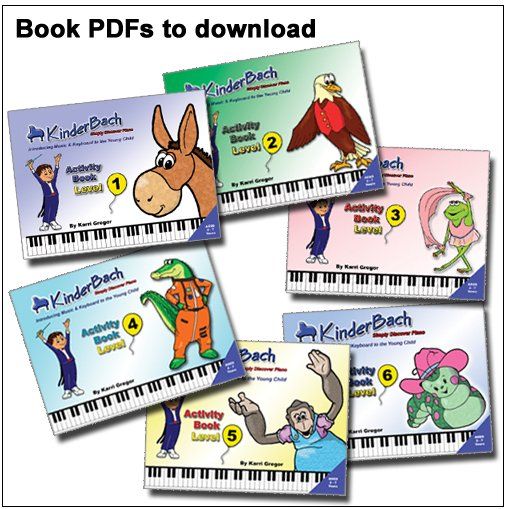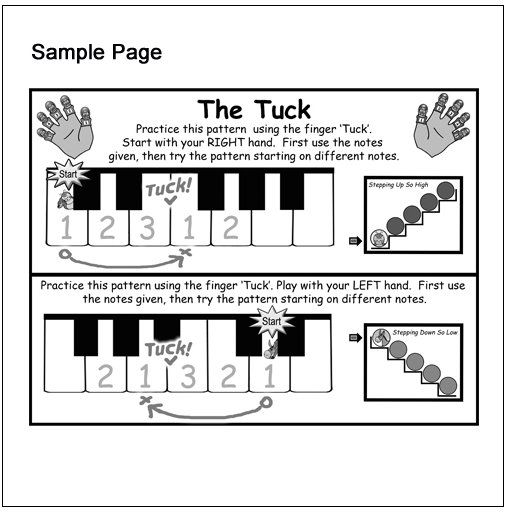 This time around, my 7-year-old will usually go off and do his own thing while my 3-year-old does the KinderBach lessons, but I find him paying attention to the lessons and clapping along to the beat, etc.  If he's on the other side of the house at the start of the lesson, I've noticed that he physically gravitates to the computer or the TV where the lessons are playing.
Each week is divided into 4 lessons, with the first being an intro to that particular module, and letting you know what you will need for that particular lesson (sometimes a rhythm instrument, other times a printer, crayons, scissors, etc.).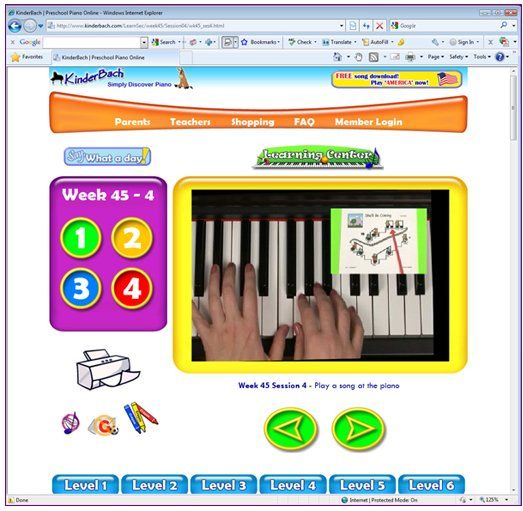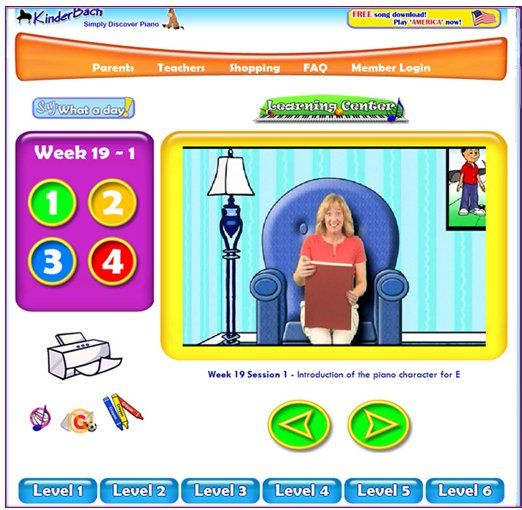 The video can be enlarged so that it takes up the entire screen if you prefer it that way (we do!).
I definitely see my daughter getting more out of this experience at 3-and-a-half than she did when she was 2-and-a-half.  She really has enjoyed the videos, learning to tap along to the beat, and learning how to identify the two black keys (Dodi's house) versus the three black keys (the train station).  Although I do have a full-sized electronic keyboard upstairs, we've been sticking to her little kitty piano for her lessons, and that's been working out great.  🙂
The  KinderBach online subscription can be paid for monthly ($19.99/month) or as a one-time annual payment of $95.88.  (this works out to a 60% discount, or $7.99/month).  A free online trial is available as well.
DVD Packages, Song CDs and and iPad/iPhone App are also available.  (A number of TOS Crew members reviewed the app – click the graphic below to read more about their experiences with it).
UPDATED – Coupon Code – This coupon code gives 30% off any order – homeschool, classroom, online or DVDs.

Coupon Code:  TOS_crew2012
Expires: 12/31/2012

Also the KinderBach App is on sale This Friday, Oct. 19th, 2012 ONLY.  The app will be discounted over 50%, down to $12.99! No code needed just the link to the Classroom KinderBach app in the App store.

Disclaimer: I received a complimentary 6-month subscription in exchange for my honest review. All thoughts and opinions are my own. No monetary compensation was received.