I had an opportunity to review BeeYouTiful skin products last year, and I was so excited to be able to do it once again!  This time around, I received their Skin Care Set which includes:
1 Laveshmint Moisturizer (4 ounces)
1 Laveshmint Toner (4 ounces)
1 Hair Shine (4 ounces)
1 Vanilla Dream Body Butter  (4 ounces)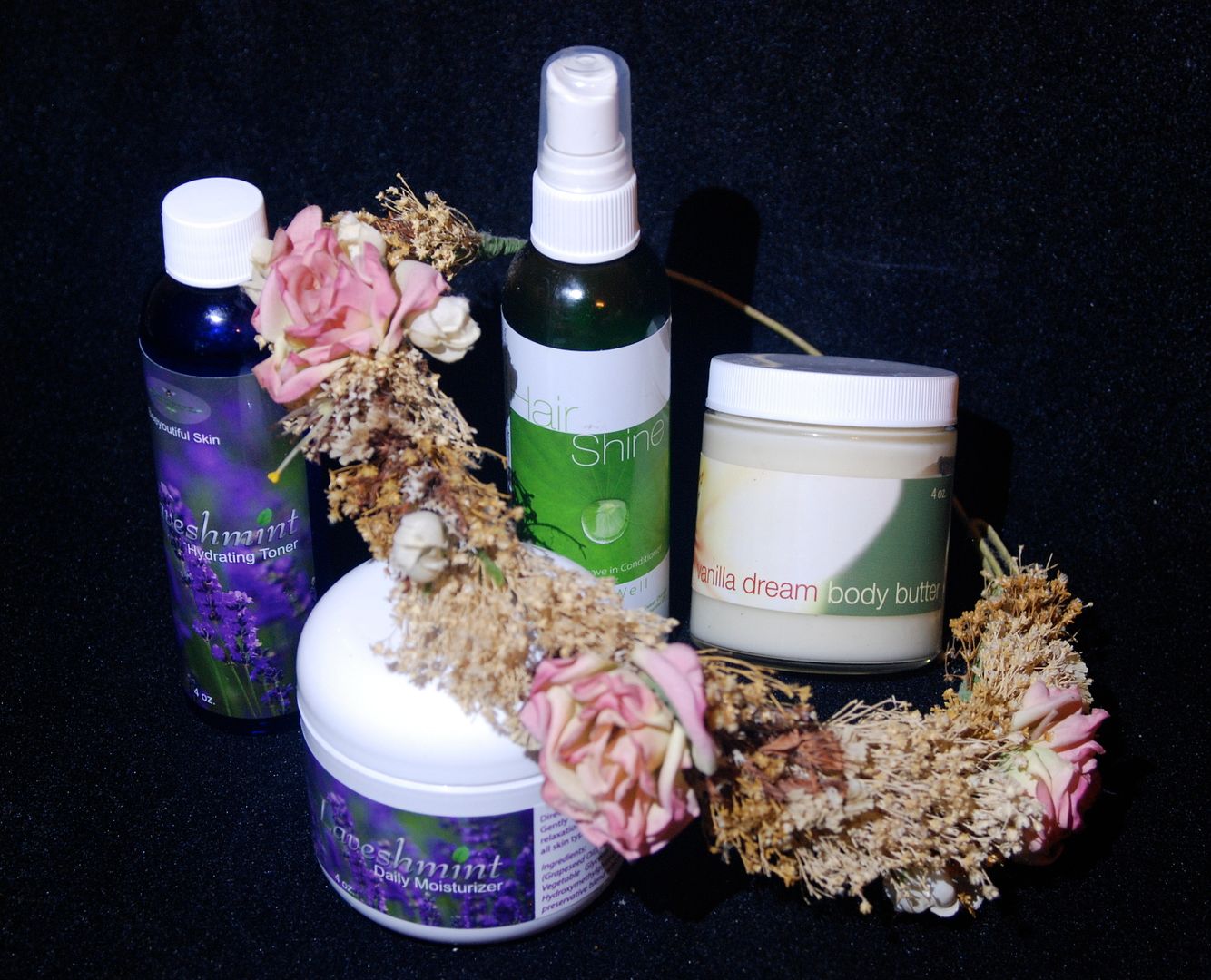 From the website:
Laveshmint Toner
This Laveshmint Hydrating Toner is the ultimate culmination of clean refreshment. Made with certified organic Aloe Vera, Laveshmint's astringent properties naturally close the pores after cleansing. We've added a unique blend of lavender and peppermint essential oils to cool sunburns, cleanse wounds, and uplift your countenance. With its captivating fragrance, Lavender has sedative and deep relaxing qualities.
Laveshmint Moisturizer
A soothing facial moisturizer that hydrates and heals with the power of pure Aloe Vera. This daily moisturizing lotion is gentle enough for even the most sensitive skin without leaving a greasy residue. Lightly scented with peppermint and lavender essential oils to bring cool relaxation while aloe and coconut oils smooth and nourish skin. Perfect for all skin types. Watch your complexion shine! Paraben and Formaldehyde free.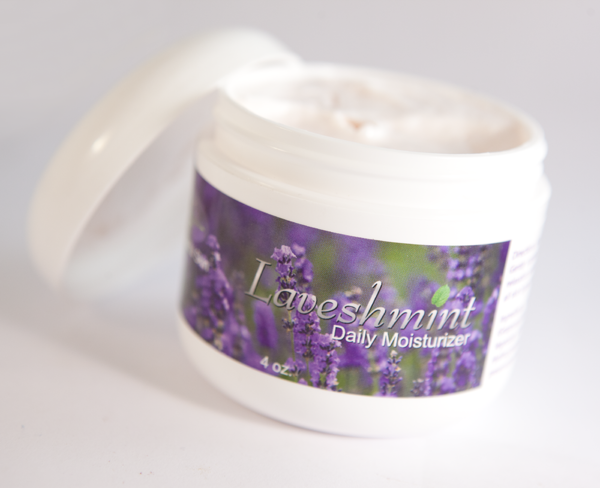 Just before I received this package, I started using an over-the-counter face wash that left my face with a slight coolness/tingly feeling. It took me a little while to get used to it, but I realized that I really liked that feeling.
I was pleased to find that both the moisturizer and the toner prolonged that cool/tingly feeling.  I tend to have sensitive skin, so I love that the BeeYouTiful products use natural ingredients.
I don't always love the smell of lavender, so I was a little bit nervous about these two products.   The scent is very light, and not at all over-powering.
My favorite product from this package is the Laveshmint moisturizer.  It has a light, whipped texture to it, and doesn't feel at all greasy or heavy.  I actually look forward to washing my face in the morning and the evening because I love the way the moisturizer feels on my face!
I haven't necessarily noticed the relaxing/calming properties – at least not long-term (throughout the day).
I generally spray on the hydrating toner a little later in the day, (frankly, whenever I remember to), and it is really refreshing.
The Hair Shine Leave-In Conditioner can be used as a detangler.  The website suggests also using it to detangle hair after a swim in chlorinated or salty water, especially if you're going straight to dinner after swimming – the orange essential oils will cover up "the pool or fishy smells if a shower isn't available".  (hehe.  Good to keep in mind!)
The leave-in conditioner also has lavender and rosemary essential oils, as well as aloe.
From the website:
Hair Shine also helps:

• Sunburn. If you or your little ones got more sun than you planned, spray on cooling Hair Shine.  The aloe and lavender cool burns and protect from infection. Like aloe, lavender is known for its use on burns, so putting the two together makes Hair Shine a cooling, healthy alternative to standard sunburn sprays. You won't have to worry about chemicals with unpronounceable names soaking into your skin. But do not use Hair Shine before you hit the sun—the sweet orange essential oil may actually increase photosensitivity in some people.

• Insect Bites. Lessen the itch and protect against infection and scarring—from mosquitos to ticks—with a squirt of Hair Shine on the bites.
Now that is just fantastic!
When I spray the Hair Shine on my little girl's hair, she definitely smells a little bit like oranges when I go near her – that's not something I had noticed on my own hair, but I like it!
The Vanilla Dream Body Butter is my second favorite product from this package.
From the website:
Shea butter, vanilla-infused oils of coconut, olive and grapeseed, grapefruit seed extract, essential oil of ylang ylang and vanilla plantifolia augment the ancient and well loved aphrodisiac, the vanilla bean, for a relaxing effect on women, assuring us we are beautiful and desirable. The soothing and healing oils of this body butter soak into dry, chafed skin for long lasting relief and beauty.
Oh, my goodness.  I know why they call this "Vanilla Dream".  This body butter feels DIVINE when you spread it on your skin.  It has  a creamy feel to it, and the scent lingers throughout the day.
My suggestion is to just put on a very little bit.  The first two times I wore it, I put it on a little more liberally, and I was wondering if others around me could smell the vanilla as strongly as I could.
(The first time I was in a friend's church and I know some people can be sensitive to scents, and the second time I was sitting next to a friend who is pregnant at my MOPs meeting – I was DEFINITELY sensitive to smells when I was pregnant, though she didn't say anything).
If  you don't often do nice things for yourself, I definitely recommend the body butter – it feels like a nice little treat for weary gals and busy mommas!
These can all be purchased on the BeeYouTiful website.  If you choose to buy in bulk (think stocking stuffers!), you can purchase them at a discounted price.
The Laveshmint Daily Moisturizer sells for $12.00.
Buy 3 for $10.80 each and save 10%
Buy 6 for $10.20 each and save 15%
Buy 12 for $9.60 each and save 20%
The Laveshmint Hydrating Toner sells for $14.00.
Buy 3 for $12.60 each and save 10%
Buy 6 for $11.90 each and save 15%
Buy 12 for $11.20 each and save 20%
The Hair Shine Leave-In Conditioner sells for $15.00.
Buy 3 for $13.50 each and save 10%
Buy 6 for $12.75 each and save 15%
Buy 12 for $12.00 each and save 20%
The Vanilla Dream Body Butter sells for $15.00.
Buy 3 for $13.50 each and save 10%
Buy 6 for $12.75 each and save 15%
Buy 12 for $12.00 each and save 20%

Disclaimer: I received complimentary products in exchange for my honest review. All thoughts and opinions are my own. No monetary compensation was received.