Reading Kingdom is an online reading program for children 4-10 years of age, or slightly older students who are struggling readers.  The program is designed to teach kids to be able to read and write up to a third grade level.
The very first time you sign into Reading Kingdom, you hear a message for the Parents/Teachers basically instructing you to observe your child while they do their assessment test, but not to help in any way to ensure accuracy.  It also warns you that some things presented will be beyond the child's abilities and that that is okay – it is just to determine how much your child knows and where he/she needs help.
The assessment determined that my son should start in Letter Land.  He tends to be a reluctant (struggling) reader, so I was okay with that assessment.
At first, my son really liked the idea of the on-screen keyboard, but it seems to throw him off when he needs to make an uppercase letter (having to click the shift key, which is represented by an upwards-pointing arrow and then the letter that he wants).
He is much more proficient when he chooses to use the regular keyboard!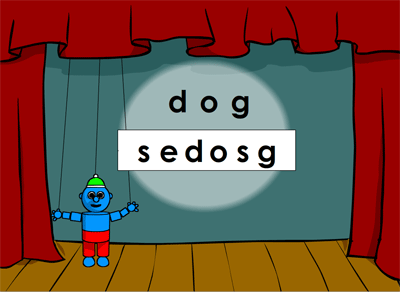 Some days my boy can get through more than one lesson before he asks to be able to do something else, and other times he screams in frustration and closes the program.  (Fortunately, it remembers exactly where you left off!)  He did tell me that he didn't like the test portion of it.
The Letter Land level is mostly about letter recognition and gaining keyboard proficiency.  He just now progressed past the Letter Land level and will be doing a new test to see where he places for a reading/writing level, which I think he might have more fun with.
Here are some things that I like about Reading Kingdom:
When you use the on-screen keyboard, it shows both uppercase and lowercase letters.
When a certain amount of time lapses, the program intuits that the child is having trouble finding the keys on the keyboard.  A "demo" keyboard appears, and the program shows the child where the keys are/which ones to press.
I receive progress reports via email letting me know when my son completes a test or a level.

Pricing: When you first sign up for the Reading Kingdom, you receive a free 30 day trial. Following the 30-day trial, subscriptions are $19.99/month or $199.99 per year (20% off). Additional children in your account get 50% off ($9.99/month or $99.99/year). You can cancel your subscriptions at any time.
For those who truly cannot afford to pay for a Reading Kingdom subscription, scholarship programs are available that will allow qualifying families to receive the subscription for free!
Books, kits and other aides can also be purchased in the Reading Kingdom Store.
Although my son is going to public school now, I want to continue supplementing his reading so he is more comfortable and more proficient.  I plan to have him continue using this program to help him achieve that proficiency.

Disclaimer: I received a complimentary one year license for an individual reader account in exchange for my honest review. All thoughts and opinions are my own. No monetary compensation was received.