Math 911 is a software program that helps you to work with Math problems for the following areas:
As you know, my oldest is 7, and although he seems to enjoy and excel at Math, he is nowhere near the Algebra level!
When this product came up through the Schoolhouse Review Crew, we were given the option to use this on an adult in the household.  I told them something to the effect of if they are looking for the type of person that panics when it comes to doing math, that I was their girl.   🙂  I'm terrible at math.  I twist things around in my head so badly, and if I try to solve the problem more than once, I'll often come up with more than one answer.  (then I try it a couple more times and whichever answer I get the most often……that's the one I go with).  Yikes.
Looking back, I remember actually doing pretty well in high school algebra.  I *somehow* passed that class with a decent grade.  But we were only required to do 3 years of math to graduate, so guess what I didn't take my senior year?  Yep.
When I saw what subjects were covered in this software, part of me hoped that there would be instruction on *how* to do statistics, trigonometry, calculus, etc., but that's not the case.    Math 911 is more like a math tutor for a subject that you know the basics for already.
Since it's been a looooong time since I've had to do Algebra, I decided to start there.  Apparently I had gotten PRETTY rusty!
What I like about the Math 911 program is that if looking at the problem completely stumps you, you can view first the answer, and then the step-by-step solution to solving the problem.
By clicking on the green "See Solution" button, you can see the answer to the problem:
(did you get it right on your own?)
The "See Solution" button becomes "See All Steps".   Each time you click the button, a new step appears with the explanation at the bottom of the screen:
(this one has a long solution!)
Math 911 was created by Professor Martin Weissman, who has been teaching math for 49 years!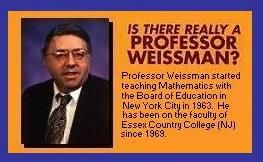 Professor Weissman created this program to ignore any incorrect answers, and "grade" the student based on the number of correct answers in order to achieve mastery of the math topic.  The problems are randomly generated (though broken down into specific topics), and the student can do the problems an unlimited number of times.
If I had a program like this when I was in school, I think I would have "gotten it" a lot sooner, and I would have been able to build up my confidence in math.
In the introductory email that I received from Professor Weissman as part of the TOS Review Crew, the Professor said
"Each start of a new year gives me an opportunity to incorporate new ideas and methods to help my students overcome their fears of Mathematics and finally master the subject."
I would have loved it if somebody helped me to get over my Math fears!

Some things that I would love to see in future versions of this program:

I would love to have a "scratch pad" within the program to use.  I ended up using MS Word, but it was kind of a pain to toggle between the two.
You have access to a calculator (that I loved!), and you could move it around the screen as necessary.  I noticed that if you had the calculator open, you had to close out of it before you could write in the answer text box.  This could be deliberate to reduce confusion, but I personally would love to be able to type in the answer box while the calculator was still present.
A complete Introductory Algebra Math 911 software download is available for FREE on the Math 911 website, as well as Algebra modules in PDF format that teaches you more about how to do the problems.
Those wishing to upgrade to the Premier version can do so for $49.95.  All future upgrades and technical support are free.  This version includes the following topics in addition to the Introductory Algebra course:
Intermediate Algebra Course (Algebra 2)
Pre-Calculus topics
Trigonometry topics
Introductory Statistics Course
These courses are for kids ages 12 and up, or those read to start Introductory Algebra.

Disclaimer: I received a complimentary download of this program in exchange for my honest review. All thoughts and opinions are my own. No monetary compensation was received.