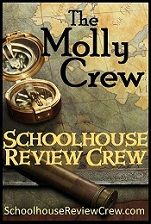 I'm proud to announce that The Old Schoolhouse Review Crew has branched out to include homemaking product reviews! The name of this portion of the Crew is called the Molly Crew and the first product featured is by
Everyday Homemaking
.
Our choices were between a Family Chore System (which we could totally use help with in our home!) or the Everyday Cooking ebook.  Being the total cookbook/recipe junkie that I am, I chose to review the cookbook.  🙂
 From the author, Vickie Bentley:
Everyday Cooking is a recipe book of simple, wholesome, quick-to-make, yummy foods—as well as kitchen tips for busy families!


These really are the foods we eat regularly, and this is the cookbook my girls all took with them when they left home.


You'll see that, while the emphasis is on whole foods cooking, we are not purists, and you'll find our favorite Jello salad recipe, etc. We do try to avoid white sugar and white flour and I give substitutions throughout the book.  As a mom of eight and foster mom of fifty, I didn't have a lot of time for fancy cooking—just healthy, simple, tasty dishes. While it is not intended as a cooking course, many moms have shared that their teens love to use Everyday Cooking because the recipes are fast and easy.
The focus on whole foods is what initially appealed to me.  I have noticed some behavioral changes with my 7-year-old when he has certain foods.  We have yet to isolate the exact cause of these changes, but I strongly suspect some of the food dyes (we definitely try to avoid red dyes, and I believe that I read that the yellow ones are a common culprit in a lot of kids).  One thing that I know for sure that he does not handle very well is sugar, so we try to really limit his intake and/or provide a protein around the same time that he has something sweet to help him process it a little better.
I was hoping to be able to load the ebook onto my Kindle Fire, but apparently there wasn't enough space on for it.  I've run into this same problem with some other large ebooks…..I'm not sure if it's because I have SO much on my kindle, or if the file would have been too large for it no matter what.
I ended up printing the ebook out instead, which tends to work out better for me anyway, since I tend to be a messy cook.
As much as I love cookbooks, I don't always love cooking.  In fact, dinner time tends to not be my most favorite time of the day.
Well, the EATING part is fine, it's getting us to that point that is hard.  By late afternoon everyone is tired and cranky, and both kiddos are absolutely RAVENOUS (despite having a snack not too long before) and will absolutely die of hunger if they have to wait just one more minute for food.  (or so, they seem to believe!)
Given that scenario which happens pretty regularly, I seize every opportunity that I can to get tips and tricks from other moms with more experience (or at least more success!) than I have in this area.
The beginning of the Everyday Cookbook is like having that conversation with an experienced mom as Vicki Bentley shares some great time-saving tips and some ideas to make breakfast time a little healthier and less boring.  There are even recipe tweaks, suggestions and more time-saving tips sprinkled throughout the cookbook itself.  (She has a neat tip on page 24 for keeping cooking oils from making a sticky mess in your cabinet.)  🙂
The recipe portion of the cookbook is broken down into four main categories:
Appetizers and Dressings
Bread and Grains
Main Dishes & Soups & Sides
Desserts and Snacks
Following the recipes you'll find:
a place for notes
Basic Measurements & Helps
Meal Planning/Shopping Hints (there are some money-saving tips in here!)
a basic cooking skills checklist that can be used for your kids
Sample Menus & Menu Planning Master sheets
a list of basic cooking accessories (this could even be used for gift ideas for someone who is just moving to their first place/going to college/a newlywed couple)
Information and Recommendations on kitchen equipment (grain mills/different types of mixers/cookware, etc.)
Slow-cookers vs. Pressure cookers (and some accompanying recipes)
Suggested resources
The first thing that caught my eye when I was browsing through the cookbook was the GORGEOUS photos of her bread!  (I seriously want to sit down and eat those loaves.  They look divine!)
One of my favorite convenience recipes thus far is the Taco Seasoning Mix (which can be used for chili, taco, fajitas, etc.).    It seems like I never have any of these mixes in my cabinet when I need them, and I'm always scrounging around trying to look one up on the internet or just throwing in whatever seasonings I can find and trying to make it work.
The other one that I have made several times in the past several weeks that we've been reviewing this cookbook is the Chicken Schnitzel.  My family LOVES it!
There is a baked oatmeal recipe that is next on my list to try.  My son just recently asked me to buy him oatmeal again for breakfast, and there's 9 grams of sugar per serving in 1 package (he usually eats 1.5-2 packages at a time – ugh!).  I don't know for sure what the grams per serving is for this particular recipe, but I can bet that overall it would be a lot healthier than the flavored stuff that we buy in the store!
Being the cookbook junkie that I am, I have noticed that some cooks like to use a lot of expensive or hard-to-find ingredients in their recipes.  This is NOT the case with the Everyday Cookbook.  Many of the ingredients used are ones that we either already have on hand, or we can buy them inexpensively at the store (or without having to search for some weird, obscure ingredients!).
I found that the instructions for these recipes were easy to follow and didn't have a million complicated steps or use a whole lot of confusing words.  Though I have to say that I have no idea what parboiled or converted rice is.  I can glean from the cookbook that it's probably something you can buy as is, right?  (She was saying that it's not as healthy as brown rice, but it is healthier than regular white rice).  I'm half-Korean.  All I know is sticky white rice!  😀
One recommendation that I do have is to link the recipe names in the table of contents to the actual recipe.  If you *are* going to be viewing it digitally, it makes it more convenient if you can go straight to the recipe as you see it in the list.
For sample pages, go here.  (This will show up as a page to order off of, click the "Preview" link).
This cookbook can be purchased here as an e-book for $14.99 or as a printed book for $17.99.

Disclaimer: I received a pdf version of the Everyday Cookbook in exchange for my honest review. All thoughts and opinions are my own. No monetary compensation was received.