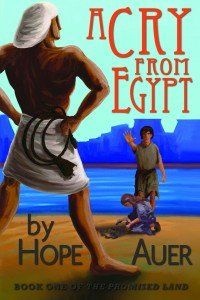 "A Cry from Egypt" is a work of historical fiction written by homeschool graduate, Hope Auer.  She began writing this book seven years ago, at the age of 13, when she was studying Ancient Egypt with her family.  At the time, she was assigned to write a short historical fiction based on what she learned of Ancient Egypt.  Twenty-five pages later, the beginnings of A Cry From Egypt was born!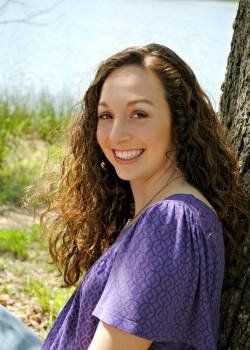 At the age of 17, Ms Auer was browsing a Christian bookstore with her mother, and was horrified by the books that were published as so-called Christian fiction.  She found that they either barely mentioned God, or that the stories were written in such a way that they trivialized God's role in our lives.
As I continued to write my own book, "A Cry From Egypt," I prayed almost every day before I sat down to write. I prayed that this book wouldn't draw anyone away from Jesus. I prayed that I would write what God wanted me to write so that people would be encouraged in their faith. My dear reader, if you are an author, or an aspiring author, please look around you at the books that are out there. How many of them bring glory to God's precious name? Without Jesus, we wouldn't be here right now. There would be no hope, no joy, no love in this world. We can't even breathe without God's help. Why would we write anything that would either water down the gospel or teach your readers to pursue the world and the things of this world and take them away from God?
Although the story was slated for kids ages 8 and older, I read the story with my 7-year-old.
Some of the scenes dealing with the harsh treatment of the overseers to the slaves was a bit intense for my boy, and he balked against listening to the story in the beginning.
When I explained to him that this was a fictional story based on the time when God used Moses to lead the Israelites out of Egypt and toward the Promised Land, his interest was renewed.
I found this book to be very well-written, but I had to change a lot of the words to make it more understandable for my son.  I also skipped over the short parts that talked about flirting – that wasn't something that I wanted to have to explain to him just yet!  🙂
A Cry From Egypt is written from the perspective of the Israelite slaves as they await deliverance from their Egyptian oppressors.  There were two main families Hebrew families that we "follow" throughout the story.  What was interesting to me, is that the whole of the first Egyptian family did not worship God.  The father believed in and worshiped God, and taught his children about the one true God, but their mother believed in the false gods that the Egyptians worshiped.
Although I had learned about Moses and the Isrealite's  Exodus from Egypt through Sunday School and in my own Bible readings, I didn't know that the ten plagues that the Lord sent down on the Egyptians each singled out one of the Egyptian's false gods.
For example, when the Lord covered the land with frogs, one of the sons asked why the Egyptians couldn't just kill the frogs to get rid of them.  Their mother was exasperated, saying that the frogs couldn't be killed because they were sacred.  She explains it further:
"One of the gods is Heget.  She has the head of a frog.  Frogs are associated with fertility and resurrection because they come from the Nile.   So frogs are sacred because they represent the goodness of Heget.  We don't worship frogs.  We just hold them as sacred."
Each one of the plagues was meant to specifically demean and tear down a false god.  Did you know that?
I loved the way that this was explained throughout the book in a way that my son could understand.  We've also been reading the accounts from the Bible to accompany this story – just to reaffirm the Biblical basis of the storyline.
I would love to know where she found the names for the characters – and how to pronounce some of them!
My son has asked me to read it to him again (we JUST finished it!).   We both enjoyed it very much, and I look forward to reading the other books in the series!

This book was published by Hal & Melanie Young of Raising Real Men and Great Waters Press, and is the first in "The Promised Land Series".  The illustrations for this book were done by homeschool graduate, Mike Slaton.
Advanced reader copies can be purchased here for $12.50

Disclaimer: I received a complimentary paperback copy of this book in exchange for my honest review. All thoughts and opinions are my own. No monetary compensation was received.