Growing up, I loved learning how to type.  I had a electronic keyboard that my grandparents gave to me with a little screen on it.  The screen would scroll the letters, and you had to type along with it.  It would do this high-pitched beep whenever you made an error, but I really enjoyed using it!
I remember taking classes starting in the 4th grade.  I still remember the typing program with a cat on it, and the brown construction paper that we had to put over our fingers to keep from looking at the keyboard!
When I worked as a software engineer, it would drive me crazy watching these brilliant programmers hunting and pecking (aka two-fingered typing!).  It seemed to me that if they spent THAT much time on the computer, they should be able to type properly!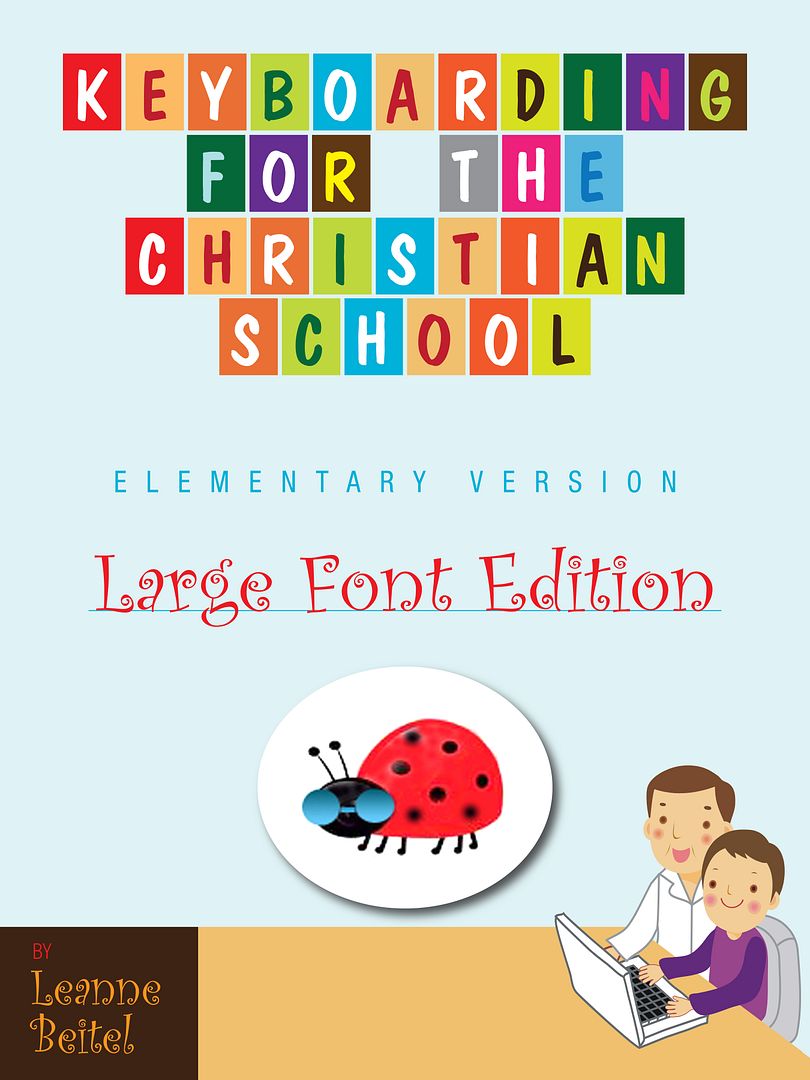 Christian Keyboarding is a neat printable curriculum that teaches kids to type.  We were given a PDF version for the purposes of this review. I chose to print this out and put it into a 3-hole binder rather than having him try to read it off of my Kindle as he was typing.
From the website:
Why choose a printable e-book versus a web-based program? Think about the things you type.  Are they readily available to copy from the screen or are they something that you are looking at on a piece of paper?  Usually you are typing something from a rough draft.  If the lessons are only available on the computer monitor; your student will not get the needed skill of transferring information from paper to the computer.
Using this with wiggly kids:  As with just about anything, I have to catch my boy at the right time with this.  Sometimes when he uses it, rather than typing "ddd ddd ddd" in a nice row of 10 sets of 3, he wants to hold the "d" key down for 3 rows (and only stopped because I made him).
When we sat down to it another time, he was ready to follow the lesson and hold his hands on the right keys  (phew!).
The lessons start out with scripture that is cutely applicable (when typing letters, 1 Corinthians 16:3, "Then, when I arrive, I will give letters of introduction to the men you approve and send them with your gift to Jerusalem."), but I'm not entirely sure what to do with that scripture. Do I read it before every lesson?  Are we memorizing it?
(I read it to him, but I don't think my boy found it terribly applicable).
As the kids progress through the lessons, they get to a point where they are typing out scriptures.  THAT makes perfect sense to me, and I love it!  (We haven't gotten there yet).
The Elementary Education ebook is geared toward students from grades K-5. It is available as a regular print or in large print format for $12.95. A hard copy is available for $45 (full-color book with shipping and handling included).
Also available is Keyboarding for the Christian School, for grades 6 and up for $15.95.  (read more about this in the other crew reviews by clicking the button below).
Christian Keyboarding is offering a generous 20% discount until 8-29-12!  Use code: SUMMER2012 at checkout.

Disclaimer: I received a complimentary pdf of Keyboarding for the Christian School, Elementary Edition in exchange for my honest review. No monetary compensation was received, and all thoughts and opinions are my own.