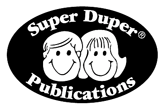 Have you ever wondered if your kids have a hearing problem because they tune you out or choose not to follow your directions?  Ummm….yeah.  We need help in that area!
I was really excited for the opportunity to review HearBuilder's Following Directions computer game by Super Duper Publications.  What appealed to me about the game the most is that it helps kids with their listening skills and following sequential directions.
Kim & Joey are master toymakers in the game.  They instruct the kids on how to complete the different levels by following directions.  The goal of the game is to listen carefully and follow the directions in order to become a master toymaker and build your very own toy factory.
When you first enter the factory, there are five doors to choose from.
Tool Room – Basic Directions
This is where you earn your uniform and tools.  The player is instructed to click on different objects.  To earn your lab coat, for example, there are a number of items that are arranged differently each time.  The child is told to click on a particular object.  Each level of this gets progressively harder, with more detailed instructions.
Toy Machine – Sequential Directions
In this part of the game, you are told to set the toy machine to different settings and then hit the start button.  When done correctly, a toy pops out of the machine.  My boy likes that when you do this incorrectly, the toy that comes out is a mish-mashed toy!
Inspection – Quantitative and Spatial Directions
Here the player is told to choose one truck, or to choose two robots.  What I like about this section is that for some of these you are given a choice of three different robots, for example.  You are told to choose one of them, but you get to choose any one that you like.
My son especially likes the breaks in between the levels where you get to play a fun little game.
Packing – Temporal Directions 
In the packing room you are given instructions like "put a horse in the box before you put a necklace in the box".  My boy's favorite part of this is that you meet "Toy Bot 3000" who moves the boxes after they are properly packed.
Shipping – Conditional Directions
In the shipping room, you are told directions like "if a frisbee is in the box, put the box on the truck."  If the conditions arent't met, you have to hit the "send back" button.
This room is my son's favorite one because "you get to drive the truck after you're done packing".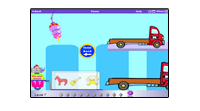 Each level has 10 sets of directions to get through before you move on.  We have our game set to "play all" where the game is allowed to increase in difficulty.  You can set it to just the beginner level,  where kids who might not be ready for some of the harder levels of instructions are given the opportunity to succeed every time.  There is also the option for Advanced level, for kids who are already good at following sequential directions, and Expert level with the option of additional background noise while the directions are being given.
There is a purple "replay" button on each screen, so if the kids miss the instructions the first time, they can listen to them again.
Visit your factory –
You can check your progress to see how close you are to getting your own factory.  (I played this a little bit so I could better detail each of the levels for the purpose of the review – I have a looooong way to go to get my own factory!)
My son really loves playing this game.  This is one that he actually requests to play, and I love that it's an educational game that helps him with life skills!
HearBuilder Following Directions Home Edition is normally available for $69.95, but through August 31st you can use the Coupon Code BLGFD30 and save 30%!
More Fantastic Coupon Codes for you to use:
Jeepers Peepers – Save 30%
Coupon Code: BLGJP30
Expires 8/31/12
HearBuilder Auditory Memory Home Edition – Save 30%
From the website:
Join Recall Agents Kim and Joey to save MemoryTown from Dr. Forgetsit while practicing important auditory memory, closure, and comprehension skills. HearBuilder Auditory Memory teaches key strategies for remembering numbers, words, sentences, and stories.
Coupon Code: BLGAM30
Expires 8/31/12
(My son saw the Auditory Memory Home Edition game in the catalog, and has been asking if we can get it – he loves that they're "Agents"!)
Find out more about Jeepers Peepers, Following Directions and Auditory Memory:

Disclaimer: I received a complimentary copy of the HearBuilder Following Directions Home Edition in exchange for my honest review. No monetary compensation was received, and all thoughts and opinions are my own.