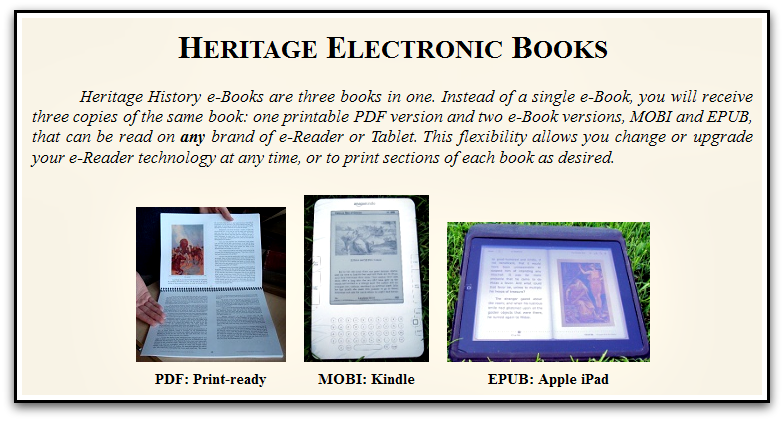 The Heritage History Young Readers' collection is a large compilation of history texts that gives kids an introduction to Western Civilization.
From the website:
The Young Readers Classical Curriculum represents a broad and age-appropriate introduction to all of Western Civilization. Primary subjects include American, European, and Ancient history, Bible and saint stories, legends and literature. The collection of books touches upon all of the major elements of Western Civilization, but in a child-friendly, easy-to-understand manner.

All of the books in the Young Readers library can be read by an older grammar school student, but they are also appropriate for read-aloud to younger children. And although the stories are told in simple enough terms for a nine or ten-year-old to understand, they are engaging enough to be of interest to older students as well.

The Young Readers library is one of our largest collections, with over eighty books to choose from. Many of the books in this collect are simple enough for a fluent reader to complete in only a few hours, so avid readers may be able to read dozens of books from the collection before moving on to more challenging curriculums. Reading a few dozen of these books will expose students to hundreds of famous historical characters and will be an excellent foundation for future learning.
One of my favorite parts of this cd is that you can view the entire library in an HTML (web page) format.  Here is just as small sampling of the books in the web view;
This makes it very easy to find a particular title, or you can select a titles that fall under one of the following genres:
My son really liked "The Eskimo Twins" by Lucy Fitch Perkins, which is part of the Historical Fiction genre.
According to the website, these stories are most appropriate for upper-elementary students.  I would agree with that classification.  Some of the stories are in an Old-English type format, which is hard for my 6-year-old and 3-year-old to understand well.  The other stories that were written in a more modern format were VERY detailed – a little too detailed for their ages, in my opinion.  I know that history tends to be very gruesome as a point of fact, but I prefer a lighter version of it for my little ones.  Down the road, however, I'm sure we'll be able to enjoy more of these stories together.
With the Young Reader's CD you get:
The complete illustrated text of 86 books, as well as timelines, reading recommendations, short biographies, historical images, and a ready-to-print Teacher's Guide for one low price. Young Reader's Curriculum CD: $24.99
To find out more about the different cds available, please go to www.Heritage-History.com.
To see what other Crew Members thought of these cds, please go here.
Disclosure: I received a complimentary Young Readers cd in exchange for my honest review as part of the TOS Homeschool Crew.  No monetary compensation was received.  All thoughts and opinions are my own.