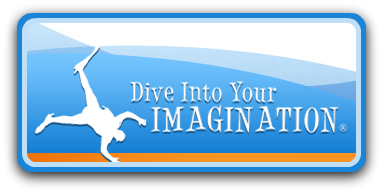 Ocean Annie (aka Annie Crawley, award-winning Youth Speaker) has a desire to educate kids and families about the beautiful life hiding in the depths of the ocean in the hopes that they, too, will fall in love with ocean life and want to protect it.
As a professional underwater photographer filmmaker and Oceanographer, Ocean Annie brings us gorgeous videos of underwater sea creatures in the Dive Into Your Imagination videos!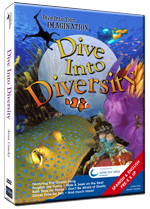 The "Dive Into Diversity" dvd not only teaches about the different types of underwater life, but Ocean Annie uses it to emphasize how differences are a good thing.  From the video:
Fish don't say to one another…OOOhhh…you are too hairy…or you are too scary…
They don't say, you are too crusty, or you are too squishy.
They don't care about the color of one another's skin…orange or red…purple or
blue…white or black…silver or gold…every color lives within our oceans.
My kids enjoyed learning about vertebrates versus invertebrates, and my 6-year-old loves telling everyone and anyone that toothpaste and ice cream are both made with seaweed!   🙂
This dvd includes:
Night Diving on the Reef
Dive Into Diversity!
Be A Submarine Pilot
Swim in a Kelp Forest
Invertebrates of the Sea!
Coral Reef Living
Vertebrates: Animals With A Backbone
Wacky, Weird, Crusty Crustaceans
My son told me that his favorite parts of the video were the Night Diving part and the "predator part – where they eat each other" (I'm not sure what part that one is in, sorry!)
I really liked when Ocean Annie showed us the kind of gear that she uses in action and how she moves around.
Each of the DVDs has accompanying educators' guides.   There are two editions for each title; PreK/K and Grades 1-3.
From the website:
 Each educator guide covers eight chapters with 6-7 activity station per chapter aligned with common core and next generation standards. As your students explore amazing vertebrate and invertebrate animals in kelp forests, on night dives, in the deep sea, and on coral reefs, they will learn literacy, science, math, geography and more. There are more than 150 extension ideas to keep your imagination flowing!
We have the educator guides (PDF version) for both the Pre-K/K grades and the 1st-3rd grades.  It is clear that A LOT of thought was put into the making of these.  There is so much more to it than great coloring pages – there are different activity suggestions to do with the different age groups that go hand-in-hand with what they see on the video and questions/talking points that are pretty much scripted for you.
You can purchase these DVDs from Annie Crawley's site for $19.95 each. The Educator Guide in printed form is $299 for each dvd for Pre-K/K and Grades 1-3.
If you purchase any of the DVDs, mention in the comments section that you homeschool and would like to have the PDF version of The Educator Guide.  I have it on good authority that she will send it to you for free (a $70 value).  🙂  At the time of this writing, Annie is also offering free shipping on the DVDs.
There are so many freebies on the Dive Into Your Imagination website including coloring pages  and  the ocean song video, sheet music & lyrics.  You can follow Dive Into Your Imagination on Facebook and on Twitter:@DiveImagination and @anniecrawley.
To see what other members of the TOS Crew thought about this and the other DVDs, please go here.
Disclosure: I received a complimentary copy of the Dive Into Diversity DVD in exchange for my honest review. All thoughts and opinions are my own, and no monetary compensation was received.