We love Science in our house…..though if you've been around here for any length of time you'll know that it scares me just a little.   My 6-year-old is SO creative….and he likes to go running off ahead of me and doing his own experiments – which can be a little scary and almost always very MESSY!  He usually does this while I'm setting up the experiment, and it can get a little frustrating.
Enter the Science and Math.com and their Amazing Science! Volume 1 dvd!  Amazing Science! is a 2-disc set with 23 experiments on it.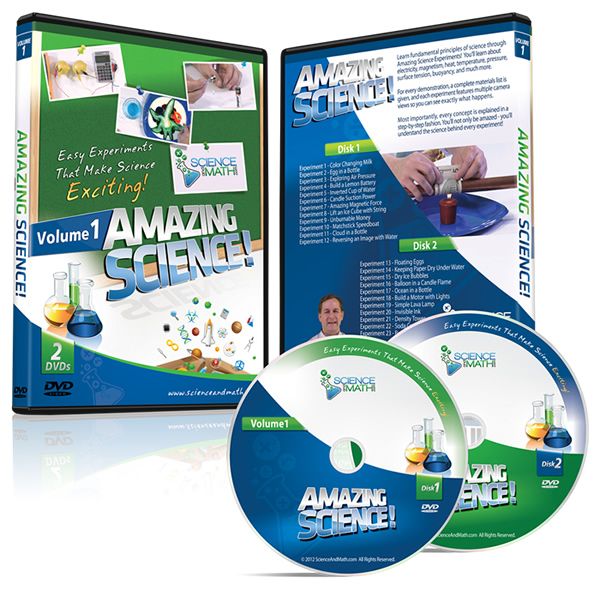 One of the nice things about it was that my son could see the WHOLE experiment – and he didn't try to go off and make his own.
I am thankful that Jason, from the videos, warns the kids when adult supervision is needed or when they need to wear their safety goggles.
Most of the supplies used can be found around the house.  (thankfully we don't have dry ice – as cool as that experiment looks, I'm a little afraid to try that one!)
One of our favorite episodes to watch was the egg in the bottle.  (I do NOT have a small-necked glass bottle in the house, otherwise we'd be all over doing that experiment!)   Our other favorite one that we were able to try was the Color-changing milk – the awe-factor for that one is HUGE!  🙂
Here are the other experiments you can see/try:
?Disc 1
?Color-changing Milk
?Egg in a Bottle
Exploring Air Pressure
Build a Lemon Battery
Inverted Cup of Water
Candle Suction Power
Amazing Magnetic Force
Lift an Ice Cube With a String
Unburnable Money
Matchstick Speedboat
Reversing an Image with Water
?Disc 2
Floating Eggs
Keep Paper Dry Underwater
Dry Ice Bubbles
Balloon in a Candle Flame
Ocean in a Bottle
Build a Motor with Lights
Simple Lava Lamp
Invisible Ink
Density Tower
Soda Can Fizz
Build a Motor #2
From the website:
"For every demonstration, a complete materials list is given, and each experiment features multiple camera views so you can see exactly what happens. Most importantly, every concept is explained in a step-by-step fashion. You'll not only be amazed – you'll understand the science behind every experiment!"
When they say that every concept is explained step-by-step, they are absolutely right.  Each experiment is said in such detail that my 6-year-old can understand and duplicate them.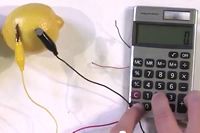 Watch the Balloon in a Candle Flame Experiment:
httpv://youtu.be/zih8_BqolS0
This 2-disc set retails for $24.95, but if you purchase it from the Science and Math.com website, you can save 20%, and get it for just $19.95. I absolutely think these dvds are worth the price. Whether you love science, or would really rather not teach it yourself, these dvds are a fantastic addition to your homeschool or you home library!
To read what other TOS Crew Members are saying about these dvds, please go here.
Disclosure: I received a complimentary copy of this 2-disc set in exchange for my honest review as part of the TOS Homeschool Crew.  No monetary compensation was received, and I was not required to provide a positive review.  All thoughts and opinions are my own.