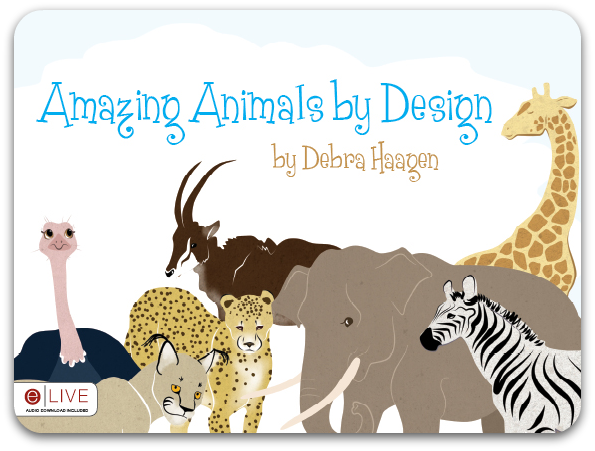 Amazing Animals by Design is about a boy and a girl, and a trip they take to the zoo with their parents.  For each animal they encountered, they learned about the specific design of each animal that enabled them to survive.
As we read through the book, we came upon a picture of a large, cat-like creature with tufted ears.  Before I could say a word, my 6-year-old yells out "Caracal!  That's a Caracal!"  (I had no idea….I think he learned about it from PBS.  =)
He had told me once that the Caracal can jump up into the air and knock birds out of the sky.  I'll tell you, I was skeptical.  I figured he meant that it leaped from a tree branch, but he insisted that it did that from the ground.  Here's what the book said:
The children watched in amazement as the trainer showed how the caracal could jump up to twelve feet in the air backwards. It could knock several birds out of the air with one jump.
Of course this was followed by a "See, Mommy?  I TOLD you they could do that!"
The book goes on to explain what the Caracal cannot do, and why being able to jump so high is important for their survival.  (I'd tell you…..but you should really just read and find out).  🙂
My kids and I enjoyed reading this book together, and finding out some of the neat designs of animals that point to our amazing Creator.
Debra Haagen wrote Amazing Animals by Design in order to introduce young children to the theory of Intelligent Design, and letting them know from an early age that there is scientific reason behind the theories of Creation and Intelligent Design.  Read more about Debra Haagen and this book
here
.
This book is intended for children ages Pre-K through 3rd grade.  The 24-page paperback book can be purchased for $8.99, and the PDF eBook can be purchased for $7.99.
Find out what other TOS Crew members are saying here.
Disclaimer:  I received a complimentary PDF download of this book in exchange for my honest review.  All thoughts and opinions are my own, and no monetary compensation was received.