I'll be perfectly honest with you.  I did NOT want to review this program.  Not that I knew anything about it ahead of time, because I didn't.
My son is a reluctant reader – he LOVES being read to, and he really does want to read, but he has a low frustration tolerance.  VERY low.  Also, we have not had a lot of success with the online programs that he's tried.  (I still cringe over the one that I paid a 1-year subscription for and he has zero interest in it).   He loves playing on the computer, but with some of the other learning things he has tried his response has been "this is boring.  You don't get to do different things."
So I very, very reluctantly agreed to review Reading Eggs with him.
First came the test.  Bad Mommy that I am, I set him up to fail from the start.  Not intentionally, mind you.  I had registered from my own computer, which has a wireless keyboard and the little mouse pad on the side of it.
I let him do the placement test from my computer since we both happened to be on the couch where it is situated.  He was doing all right, but then partway through it he accidentally double-clicked on the mouse pad and it counted it as an answer (understandably).
He got VERY upset, and refused to finish the test – he wanted to start the whole thing over again. A few days later, I had him try the placement test from my husband's computer, where my son normally works from.  He did much better, but toward the end of the 40-question exam, he wasn't able to answer the questions – he didn't know the answers.
I assured him that was okay, and we started from the beginning of the program.  (Crisis averted – whew!)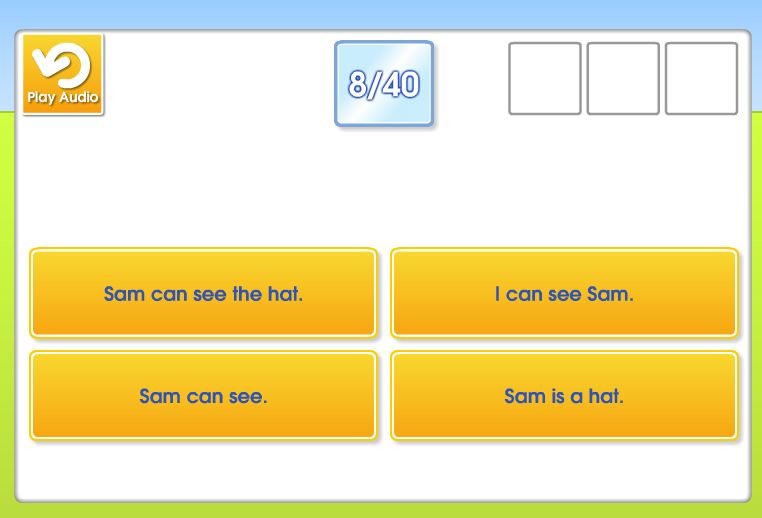 Can I just tell you that my son LOVES this program?  He giggles when he's playing it, and has told me repeatedly "I LOVE Reading Eggs!".  He even asks me if he can play it!
One thing I have noticed is that there are a variety of things that he can do within the program.  He can arrange furniture in rooms of "his" house, he can purchase items in the store, play musical instruments, and several different games.
The lessons are easy for him to understand, but not so easy that he gets bored with them.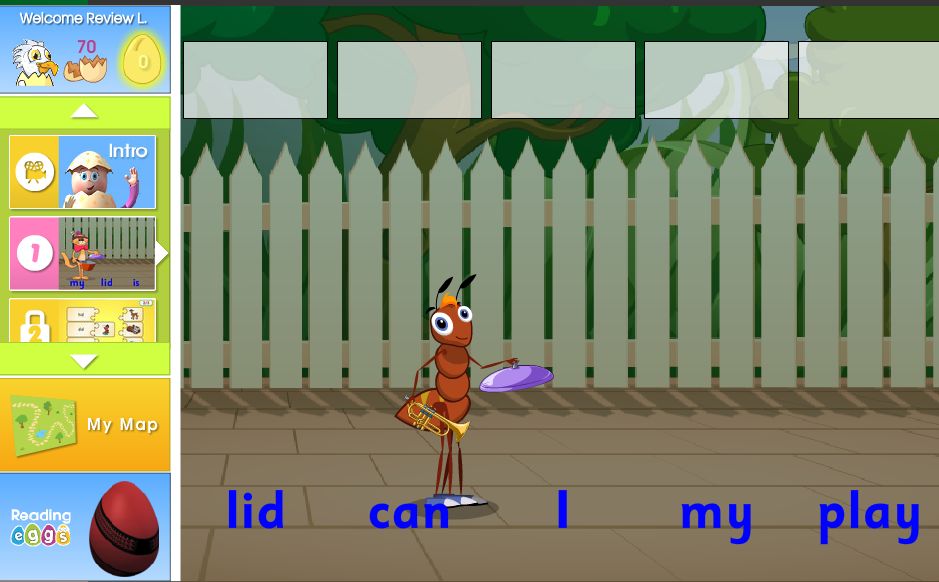 When he completes all of the lessons on the map, he has to take a quiz to "graduate" to the next level.  My favorite part is that when he completes the quiz, Reading Eggs emails me a progress report.  Here is a screenshot of one of the emails I received:
Another thing I love about Reading Eggs is that you can try their sample lesson, and they also allow a free trial so you can see if it will work for your child before you commit to it (unlike that other program I was lamenting about at the beginning of this post!)
If you are interested in a Reading Eggs subscription, they are available for the following prices:
12-month subscription – $75 (which works out to only $1.40 per week)
6-month subscription – $49.95
$9.95/monthly
If you purchase the 12-month or 6-month subscriptions, you can add a second or third child at the same time and receive 50% off their subscription price.
Reading Eggs also offers book packs that accompany the lessons.  To find out more, visit their pricing page.
To read what the other TOS Homeschool Crew reviewers are saying about Reading Eggs, visit the Homeschool Crew blog.
Disclaimer: I received a complimentary two-month subscription in exchange for my honest review.  No monetary compensation was received, and all opinions are my own.