Action Alert provides internet control for parents.  It is programmed to  block hundreds of thousands websites known to have inappropriate content or spyware, and it also allows parents to specify sites that they would like to block.  Alternatively, parents can choose to allow kids to access only the sites in the Favorites List.
With Action alert, parents can watch every action that the children take while on the computer, or they can search the video using specific keywords.  By setting up different users on the computer, you can pick and choose which users to protect.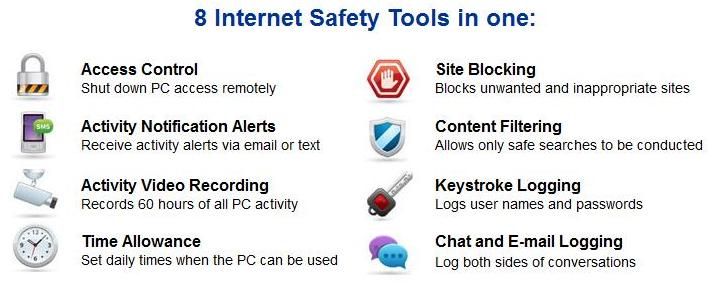 My 6-year-old uses my husband's computer to play his games.  He's been known to search for terms that are completely innocent on his part, but they've come up with things that are…less than appropriate.  We tend to stick close by when he's on the computer, but occasionally he'll find a game that we prefer he didn't play.
With Action Alert, I was able to watch the video to see all of the actions that he took, the sites that he visited, and what he did on each site.  I liked that I could monitor his activity from my computer WHILE he was on my husband's computer.   I received an email alert when he hit the x button 3 times in a row….and no, he wasn't searching for x-rated sites!  =)
I also like that it logs both sides of chat & email for parents that are monitoring tweens and teens.
Action Alert offers both a free download and a Maximum Security protection for $29.99 (they can be found here).  The maximum security option allows you to monitor social networks and multiple users, and it comes with a 30-day money back guarantee.
Now according to the Action Alert website, it won't harm or change your computer in any way.  My husband HATES if we download or install anything on his computer.  He hates it.  Because of that, I rarely will install anything on his pc.  This time I did it, thinking there wouldn't be any problems.  Unfortunately, I was wrong.
I viewed my son's activity the same day that I installed it.  As I mentioned, I was able to watch the video and see how the alerts came into my inbox.  If you want to monitor one computer from another one, the instructions tell you to uninstall the program from the main computer and install it on the viewing computer.
You are assigned a key at the time that you install Action Alert, and you just need to enter the key code assigned to the main computer onto the viewing computer.
When I did this, that is when the problems arose.  The next time my husband went to turn on his computer, it wouldn't boot up.  At all.  He had to reboot it a number of times, then he ended up having to restore his computer to an earlier restore point.  (ugh, sorry hubby!).    I was under the impression that the restore point was from before I installed Action Alert in the first place, so I did nothing.
A few days later, he was still having problems every time he tried to boot his computer.  About a day or two after he did the system restore, I received a message saying that it needed to reboot to finish uninstalling Action Alert (what??).  He told me that he STILL has problems booting up initially.
I did keep the program on my computer for a little while longer, but I noticed that my Firefox kept crashing every time I used it.  Once I uninstalled it, Firefox stopped crashing on me….
To find out what others are saying about Action Alert, visit the TOS Homeschool Crew blog.
Disclaimer: I received the full download version of Action Alert for the purpose of reviewing it in exchange for my personal opinion.  No monetary compensation was received, and all opinions expressed are my own.