One thing that we've been striving to improve on in our family is Virtues….kindness, gentleness, self-control….some days I feel like I'm CONSTANTLY reminding them to be kind to one another (and noticing that my tone and my words aren't really modeling the virtues that I'm trying to instill…).
We recently had the opportunity to review Virtue Clue Cards, the downloadable Kids of VirtueVille coloring book, and the Teacher's Handbook from We Choose Virtues.
We Choose Virtues is a 2-year-old company, and the products were designed by Heather MacMillan, who is a preschool teacher and a children's pastor.   She developed the products seen on the We Choose Virtues site to help facilitate a change in children's attitudes, and to give parents and teachers a helpful tool to teach children necessary positive character traits.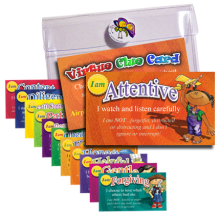 The Virtue Clues are a brand-new product.  You receive 13 cards that are each 2 x 3.5 inches.  They come in a plastic carrying pouch with a Velcro button closure.
Each card introduces a different virtue with a friend to accompany each virtue.   The clue card teaches the children the meaning of the virtue in words that they can understand, as well as teaching them what that virtue is NOT.   The back of the card encourages the child to choose a way to model that virtue.
I love that the Virtue Clues are taught in such a way that my kids can apply it immediately.  For instance, the "I am Helpful" card has been especially effective with my 6-year-old.  We do struggle with cleaning up after ourselves when we make messes.  This is something that I hear myself harping on them for just about daily, and generally cleaning happens very s-l-o-w-l-y with lots of playing  while we're supposed to be putting things away.
When I read him the Virtue Clue for being helpful, "I find things that need to be done and I do them!", he immediately said "okay!", and he got up and raced to put things away without being asked.
Now, I don't expect this to happen every single time I read him the card, or even with every single child that uses these cards, but these cards gave me the words that I needed to teach him what was expected of him.    Not only that, but it gave him the impetus to go out and model that virtue!
One night I was trying to recount for him the things that he had done well that particular day.  My eyes fell on the Virtue cards, so I pulled them out and said "let's see how many of your virtues you've used today".    That happened to be a VERY good day for us (did I mention that we've been struggling a bit lately??), so for each card I was able to think of a relevant example from that day where he modeled that virtue.  I could see his little face scrunching up in anticipation….like he was thinking "Ohhhh, I don't know if I'll 'earn' this one today!"  It was really quite cute…..and a neat way for me to find the positive behaviors that he showed.  I could easily see this becoming part of our nightly routine!
Virtue Clue Cards can be purchased at a discounted price of $5.99 (normally $7.95).  The downloadable Kids of VirtueVille coloring book can be purchased for $3.00, and the Teacher's handbook can be purchased as an ebook download for $4.99 or a hardcover copy for $19.99.
There are currently a number of Clearance items, while supplies last, that can be found here.   In the months of January and February, the 100 Days of Virtue Poster and Stickers will be included FREE with any Homeschool Kit purchase.
If you do choose to order from the site, you may use one of these promo codes per order:
VIRTUE15 for 15 % off your purchase
– OR –
SHIPFREE for free worldwide shipping
Don't forget to "like" We Choose Virtues on Facebook for updates as well as tips on parenting, leadership and inspiring lasting Virtue.
To find out what other members of the TOS Homeschool Crew said about these clue cards, go here.
Disclosure: I received a complimentary copy of this product to review in exchange for my honest opinion. I received no monetary compensation in exchange for a positive review. All thoughts and opinions are my own.