R.E.A.L. Homeschool Spanish was created by Dr. Karen Williamson-Coria, who was a language teacher at the high school and college level for 23 years, and then wanted to teach a language to her 3 children in a homeschool setting.
The recommended time to do this is 20-30 minutes a day for 5 days a week.  I'm thinking we might be able to do that when my 6-year-old is a little older.  For now, I have trouble getting him to do anything EVERY day except for eating, sleeping and playing.  🙂
Each lesson starts out with vocabulary pertaining to a specific topic – family for one lesson, foods for another, etc.
Once the students have a handle on the vocabulary, relevant phrases are taught – "what is your grandmother's name?" "How many brothers/sisters do you have?"
Each unit has tips for the home educator, as well as suggestions for games to make & play, songs to sing, and other ways to make learning Spanish natural and fun.  They even suggest lapbooking with it – I LOVE that!
The workbook has 179 pages of crossword puzzles, fill-in-the-blanks and other spelling/writing practice.  To be perfectly honest, I skipped this part of it with my son who tends to be reluctant when it comes to writing in English.  (His frustration level is on the low end right now, and I knew this would put him over the top).  It does look like a lot of fun, and it is something that I would like to reintroduce when he's older.  (I do love that there is also an answer key for us  – just in case WE need help!)
The Daily Curriculum is broken down for you with the 5-day schedule.  There is a column for your weekly prep, and suggestions for what to do each of the 5 days.  I love that it's all laid out for you so you can quickly glance at it and plan your agenda for the week.
As you can see in the logo, "R.E.A.L." is an acronym for Relax, Enjoy, Aspire, Learn Spanish.  The instructions to the home educators is written in a way that encourages taking an easy, low-pressure approach to learning that I can relate to.
The only downside that I found was in the audio files – they seemed kin of tinny, like they were recorded in a room without a lot of furniture.  These clearly weren't professionally recorded, which kind of distracted me from what was being said.  (though the conversation itself sounded pretty natural).   As an aside – I didn't really notice the echo for the Workbook audios.
If you would like to see some samples from this program, you can view and download them here.
REAL Homeschool Spanish retails for:
Downloadable Book Bundle ~ $49.95
Includes Teacher's Book, Student Activity Book, Answer Book, Audio Files.
Downloadable Book Bundle (above) + Daily Curriculum Guide ~ $59.95

Hard copy Book Bundle ~ $89.95
Hard copy Book Bundle + Daily Curriculum Guide ~ $99.95
This program can be purchased online at www.realhomeschoolspanish.com/.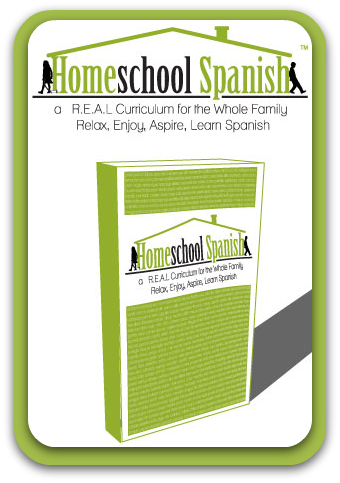 To read more reviews about this and other products, check out the TOS Crew.
Disclosure: I received a complimentary copy of the Downloadable Book Bundle + Daily Curriculum Guide to review in exchange for my honest opinion. I received no monetary compensation in exchange for a positive review. All thoughts and opinions are my own.