Do your little ones LOVE fire trucks?  Since I had my youngest (who is now 6), I have really gotten into Construction trucks and rescue vehicles…..we love seeing them, learning about them, etc.  We've gone to several touch-a-truck events, and the open house at our local volunteer fire station because they are just. so. cool!
When I was given the opportunity to review "Lots and Lots of Fire Trucks" by Marshall Publishing for the TOS Homeschool Crew, I jumped at the chance!
We received a neat DVD with songs and safety tips, as well as a beautiful, full-color 8.5″ x 11″ book filled with great photos and all things fire trucks and firefighters.
At first, my 6-year-old, who tends to have a negative first reaction told me he didn't want to watch the video because it was "just songs".  The songs ARE kind of catchy, though – and it shows cool scenes of firefighters in action.
Once the songs are over, they have good advice for the kiddos – about dialing 911, having an exit plan in place with your family, and other fire-safety and fire-prevention tips.
The different segments of the DVD are:
Lots and Lots of Fire Trucks
Call 911
Fireman Jim's Safety Tips
Stop, Drop and Roll
Your Home Safety Plan
It's an Emergency
Heroes Brave and Tall
Great Big Fire Trucks
Fire Trucks in Action

The 128-page book is a great accompaniment to the video, carrying over the character "Firefighter Joe".  Here is the breakdown of the book:
Meet Firefighter Joe – this chapter has photos and descriptions of all of the gear that the firefighters wear when they go to fight fires.
Firefighter's Tools & Equipment – learn about the different tools that they use like the battering ram, the Halligan tool and the Jaws of Life.
Rescue Vehicles – Learn about the different kinds of vehicles, and how they are used.  Did you know that firefighters call the aerial ladder "the big stick"?
Pumper Trucks
Ladder Trucks
Specialty Vehicles

Fire Fighting Facts – learn neat facts about how often different types of fires were reported in the United States in 2006 (there was 1 home structure fire reported every 83 seconds!), and common causes of fires.
Fire Science Basics– Learn about the Fire Triangle, the sequence of events for a typical wood fire, and different kinds of fuels that burn.
Fire Prevention Week – Kids learn when Fire Prevention Week started, and why.
Fire Prevention & Safety Tips– This chapter includes information on the different types of Fire extinguishers, and how to use them.
What is a Firefighter? – (a poem)
Firefighters in Action – see great pictures of firefighters in action throughout history
Words of the Firefighter – The sweet poems and prayers in this chapter are heartwarming – it makes me want to go out and thank a firefighter (and their family) today!
Fireman's Prayer
A Fireman's Wife's Prayer
Ten Commandments for Firefighting
The Firefighter's Commitment
The Last Alarm
A Firefighter's Pledge
Old Time Firefighter's Alphabet– this is really cute. I like "D is the Driver, who with reins in his hands, drives three horses abreast that obey his commands."
Classic Fire House Traditions – This chapter has information about the Maltese Cross, Dalmatians as the Fire house dog, and Firehouse recipes (I love that they have these in here!)
History of Fire Trucks & Firefighting– there are some neat black-and-white pictures in here of some of the older fire trucks in action.
Antique Fire Trucks – See close-ups of some of the antique fire trucks.
Greatest Fires in History – From Rome in 64 AD up to the firefighters' response to the 9/11 terror attacks – do you know what the greatest fires in history are?
Firefighting Timeline – this timeline goes all the way back to 64 AD and brings you right up through 2006.
Fire House Museums – I checked to see if the Fire museum that we visited here in CT was listed, and was pleasantly surprised to see that it was!  There is one tiny one out here that we visited that wasn't listed, but I also found out about another one nearby that I hadn't heard of before.  Looks like we have a field trip on the horizon!
Cool Fire Related Websites – this has national organizations on one page, and sites for kids on the next.

Lots and Lots of Fire Trucks Sing-a-long Song Lyrics
Conclusion

This DVD and book set is such a great resource for families.  When you read SO MUCH about a topic, you have to wonder if there will be anything new introduced.  There were a lot of interesting facts that we hadn't come across in other resources!
If you would like this for your family's library, you can find it at Marshall Publishing Inc or FireSafetySongs.com.  It regularly sells for $49.90, but Marshall Publishing is offering a fantastic discount for anyone reading this review. You can get this set for just $19.95 plus shipping & handling by entering TOS Review Special coupon code TOSF1. (The item number for the DVD/book combo is MPP-FTBD).   This set is considered appropriate for all ages.
In addition, I received a copy of George Washington Carver: His Life and His Work on DVD.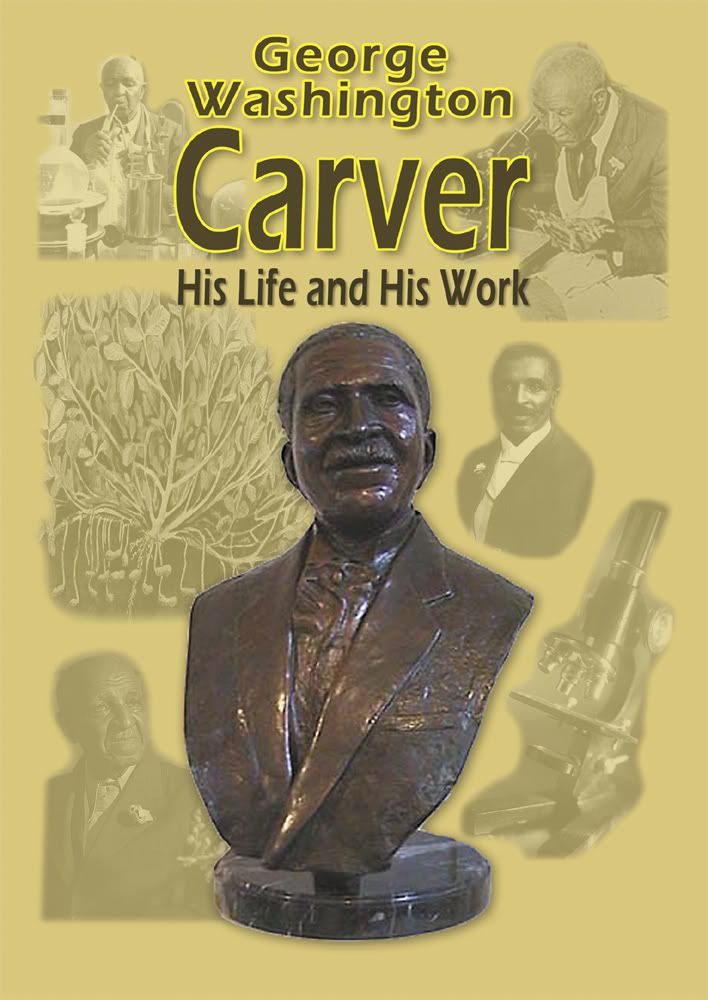 The kids and I started watching this together – they loved the images in the beginning and were yelling them out to me (look Mommy, a butterfly!).  It definitely is for older kids though, so they didn't watch it for very long.
From the back cover of the DVD:
As a living example of the importance of hard work, a positive attitude and a good education, Carver was instrumental in changing the stereotype of the time that the black race was intellectually inferior to the white race.

Here then, is the story of Carver's life…a life that should not be forgotten, for it is full of hope, meaning and inspiration.
This, too, is available from the the Marshall Publishing website, and the running time is approximately 30 minutes.  This is recommended for grades 8-12.
If you would like to read more reviews on Lots and Lots of Firetrucks or George Washington Carver, please check out TOS Homeschool Crew.
Disclosure: I received a complimentary copy of this book and these DVDs to review in exchange for my honest opinion.  I received no monetary compensation in exchange for a positive review.  All thoughts and opinions are my own.