As part of The Old Schoolhouse Homeschool Crew review team, I was given the opportunity to review Before Five in a Row by Jane Claire Lambert. I was really excited about this one for my little one because my 6-year-old and I are doing Five in a Row for his studies and we love it.
Before Five In A Row is for ages 2-4, and is set up as mini-units in the style of Five In A Row. If you are not familiar with Five In A Row, the lessons are set up so that you read the same book over the course of five days. The corresponding activities cover areas like social studies, math, art and language arts.
The book is 8.5 x 11 landscape – which we appreciated since it helped to easily differentiate from our Five in A Row Volume 1 (same color, but portrait-style). The author, Ms. Lambert, is a homeschooling mom of 16 years.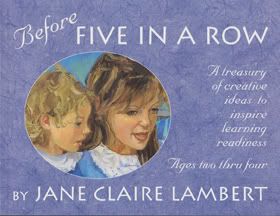 From the back of the book:
"What is Before Five in a Row? Let's begin with what it isn't. It isn't a curriculum. Neither is it an aggressive, academic training regimen designed to turn your pre-schooler into a scholastic super-acheiver. It is a rich treasury of creative ideas designed to help you gently, consistently prepare your children for the life-long adventure of learning."
Here is a list of the books used in Before Five in a Row:
Jesse Bear, What Will You Wear?, by N.W. Carlstrom
Yellow Ball, by Molly Bang
My Blue Boat, by Chris L. Demarest
The Little Rabbit, by Judy Dunn
Ask Mr. Bear, by Marjorie Flack
Blueberries for Sal, by Robert McCloskey
Goodnight Moon, by Margaret Wise Brown
The Big Green Pocketbook, by Candace Ransom
The Runaway Bunny, by Margaret Wise Brown
The ABC Bunny, by Wanda Gag
If Jesus Came to My House, by Joan Gale Thomas
Caps for Sale, by Esphyr Slobodkina
The Carrot Seed, by Ruth Krauss
The Snowy Day, by Ezra Jack Keats
The Quiet Way Home, by Bonny Becker
Play With Me, by Marie Hall Ets
Prayer for a Child, by Rachel Field
I Am an Artist, by Pat L. Collins
Angus Lost, by Marjorie Flack
Katy No-Pocket, by Emmy Payne
We're Going On A Bear Hunt, by Michael Rosen
The Red Carpet, by Rex Parkin
Corduroy, by Don Freeman
Jenny's Surprise Summer, by Eugenie
We had many of these books in our own personal library.  Most of the other books can be easily obtained at your town's library or through Inter-Library Loan.
I would say that our favorite activity, by far, has been the one for The Carrot Seed.  We cut the top half-inch off of a carrot (that had NO green leafy stuff on top!), and put it in a small dish with water and put it in the windowsill above our kitchen sink.
We loved checking on it every day.  Here it is after several weeks of growth:
Aside from the great activities, my favorite part of this book is the second section entitled "Parent's Treasury of Creative Ideas for Learning Readiness".  The topics covered include:
Activities for Reading Readiness – this gives suggestions for talking & listening, reading, poetry, hand games, singing, dancing, making music and drama.
Coordination
Development of Large Motor Skills – this includes suggestions for tumbling & wrestling, log rolling, crab walking, balancing, hopping, skipping, pushing, pulling, dragging, ball play, balloon play and bubbles.
Development of Small Motor Skills – this includes suggestions for puzzle play, sorting, threading and lacing, choosing art supplies, cutting & pasting and clay modeling.

Activities at Bath Time
Activities in the Kitchen
Activities in the Store
Toys
The Arts – (Visual, Literary & Performing Arts)

Learning to See Through Children's Eyes
Books to Help You Understand

As someone who collects books with these types of suggestions, this feature ranked high on my list of things to love!
Before Five In A Row retails for $35 and can be purchased exclusively at Rainbow Resource (love that store!).
If you would like to read more reviews on this book (and many other products), please check out TOS Homeschool Crew.
Disclosure: I received a complimentary copy of this book to review in exchange for my honest opinion. I received no monetary compensation in exchange for a positive review. All thoughts and opinions are my own.